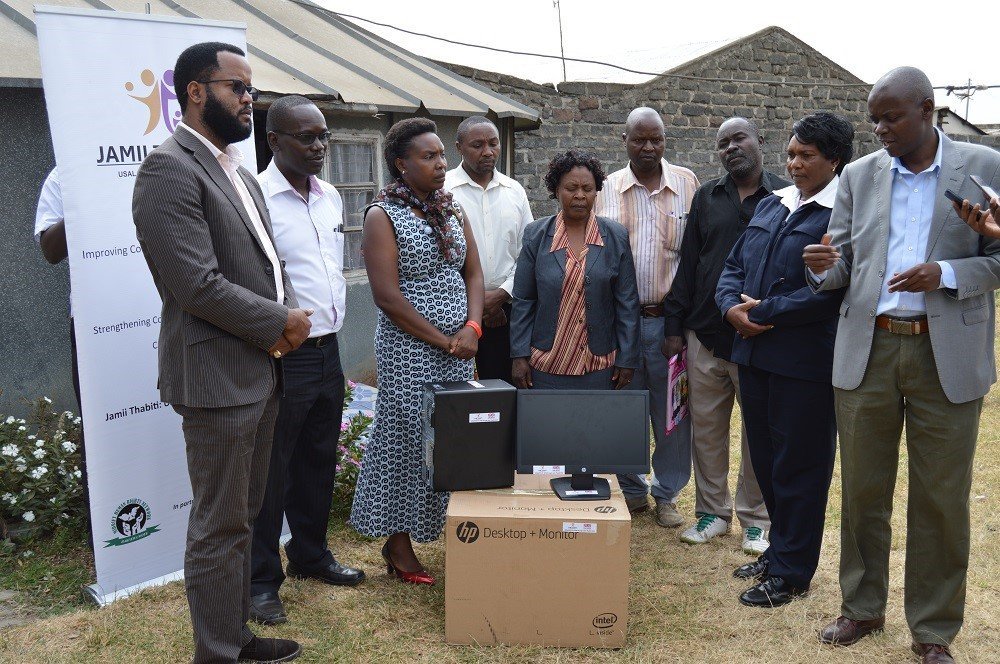 As a way of ensuring quality service delivery, we on Friday donated computers to Kaptembwa and Elementaita Police stations in Nakuru County. The donation was made possible through a partnership between Midrift Human Rights Network and Jamii Dhabiti project.
The donations are in line with our current project on Community Policing in Nakuru County. Our CEO Mr Joseph Omondi together with other members of our staff were there to present the computers.
Speaking during the handing over at Kaptembwa Police station in Nakuru West, Joseph Omondi said that every police station should be equipped with modern tools that will enable the officers to perform their duty as mandated in the National Police service act.
"The police stations should be more modern to enable the police officers to execute their mandate as envisioned in the National Police service act. As Midrift we are working closely with partners like Jamii Dhabiti to see to it that the component of policing is enhanced through the partnership between the community and police," he said.
His sentiments were echoed by Marianne Muia from Jamii Dhabiti who said that since the commencement of the project there has been improved security in Kaptembwa.
She also commended the police in the area for their understanding of how to handle issues without using excessive force.
"Since the start of the program of Jamii Dhabiti in Nakuru county, I must say Kaptembwa is one of the stations that has seen improvement and there has been peace. Communities are now understanding that police are also human beings and the police are also understanding that they don't have to use excessive force when resolving issues," she said.
Kaptembwa OCS, Jane Thuita who received the computer on behalf of the station, commended Midrift and Jamii Dhabiti for the role they play.
"I want to thank you so much for the support since 2016 and with this computer, our work is now easy and we look forward to working with you in the future," said the OCS.